Pengaruh minuman berenergi mungkin akan memberikan kekuatan meskipun sifatnya sesaat, namun dibalik efek tersebut ada bahayanya bagi jantung. Peneliti menemukan bahwa minuman energi dapat meningkatkan tekanan darah hingga tingkat yang tidak sehat. Efeknya jauh lebih menonjol pada orang dewasa muda yang tak biasa mengonsumsi kafein.
Dalam penelitian yang dipimpin oleh dokter penyakit dalam dan jantung di Mayo Clinic, Minnesota AS, Anna Svatikova, tim peneliti memberi sekaleng minuman energi yang dijual bebas kepada 25 relawan sehat. Relawan itu berusia antara 19 sampai 40 tahun. Di lain hari, mereka juga meminum minuman plasebo dengan jumlah yang sama. Peneliti lalu mengukur denyut jantung dan tekanan darah partisipan sebelum dan sesudah meminumnya. Hasilnya, para partisipan mengalami tingkat tekanan darah lebih tinggi usai menenggak minuman energi daripada minuman plasebo. Rata-rata tekanan darah sistolik peserta (angka teratas dalam pembacaan tekanan darah) meningkat sebesar 3 persen setelah minum minuman energi, dibandingkan dengan setelah mereka minum minuman plasebo.
Pengaruh minuman berenergi!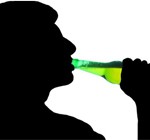 Efek paling drastis dirasakan pada orang yang biasanya tidak mengonsumsi lebih dari secangkir kopi atau minuman kafein lainnya. Pada orang yang termasuk golongan yang disebut 'kafein naif' ini tekanan darahnya meningkat dua kali lipat seperti yang dialami orang yang minum setidaknya secangkir kopi setiap hari.
Menurut profesor farmasi dari University of The Pacific Stockton, California, Sachin Shah, meskipun terjadi kenaikan kecil pada tekanan darah, hal itu bisa berdampak fatal, bergantung pada usia dan tekanan darah. "Peningkatan tekanan darah akut atau moderat biasanya bukan penyebab kekhawatiran pada orang yang sehat," kata Shah, yang telah melakukan penelitian tentang efek atau pengaruh minuman berenergi.
Namun, pada orang tua atau orang-orang dengan hipertensi, peningkatan moderat mungkin menimbulkan kekhawatiran.
Di level polulasi, peningkatan tiga atau empat angka pada tekanan darah sistolik bisa berarti kenaikan signifikan dalam angka kematian akibat stroke.
Dalam penelitian terpisah, partisipan sehat mengalami kenaikan lebih tinggi pada tekanan darah setelah mengonsumsi minuman energi dibandingkan saat mereka meminum kopi yang memiliki kafein dalam jumlah sama.
Berdasarkan sumber dari Mayo Clinic, mengonsumsi 400 mg kafein sehari tampak aman bagi kebanyakan orang dewasa yang sehat. Jumlah kafein itu setara dalam empat cangkir kopi yang diseduh, 10 kaleng cola atau dua minuman peningkat energi.
Sesuai yang termuat dalam tribunnews.com, bahaya mengkonsumsi minuman energi (pengaruh minuman berenergi) lainnya antara lain kecemasan, halusinasi, detak jantung tak beraturan, dan penyalahgunaan zat. Efek paling berbahaya akan dirasakan pada anak-anak yang mengonsumsi minuman ini karena ukuran tubuh mereka lebih kecil.
===============================================
Mampir juga kesini ya! Terdapat aneka ragam produk yang bisa didapatkan dengan sistem preorder.